Owning a home is a great asset, often time buyers jump into buying the house without a home inspection and later found out that there is a defect.
After paying a huge amount of money to buy your dream home, you discovered later that the house doesn't worth it, all the structure of the house needs to be fixed .how will you feel? Sad right.
In this post, you will learn what a home inspection is, who is a home inspector, why it is important, mistakes to avoid, a list of items to check during an inspection, reasons you should not skip it.
Knowing all this will give you the confidence to proceed without worrying about unexpected repair bills.
What Is a Home Inspection?
Home inspection is a process that uncovers issues with the home itself, it evaluates the home condition from the foundation to the roof, which is usually done by professionals.
This will help you to make an informed decision about the home you're considering buying.
According to a survey by ASHI, seventy-two percent of Americans believed that their home inspection before purchase of their home helped them to avoid potential issues with their home.
Who is a home inspector?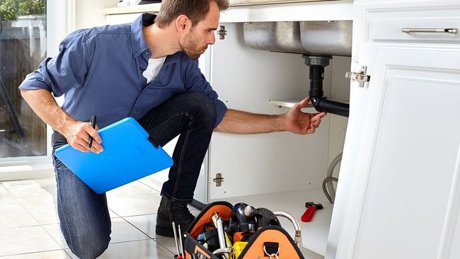 Source: Americanfinancing.net
A home inspector is a certified professional that tests the condition of the property, with its heating and cooling systems, plumbing, electrical work, water, and sewage, as well as some fire and safety issues.
Also, the home inspector will look for evidence of insect, water, or fire damage or any other issue that may affect the value of the property.
Why home inspection is important
Home inspection reveals the present condition of the house you're intending to buy and also serve as an eye-opener to prepare you for future expenses
It simply tells you, if the house you're about buying really worth it or not
First-time buyers tend to let emotion affects their buying decision and make it difficult to see any problems with their new home.
Although the home-buying process can be very stressful it really worth your time and money invested in it.
Imagine after purchase you discover that there is a major defect in the property just purchase how will you feel? Sad right.
Yeah I know, that is the reason why you need home inspection to be done by professionals because this will help you find out if there are major defects with the property you just purchased.
Here is why a home inspection is important.
• Provide you with rest of mind that you've made a sound buying decision
• Expose any necessary repairs and investments before you buy
• provide you helpful details about each aspect of your new home
• Help reduce the risk of unwanted "surprises" after you move in
• Ease buyer's remorse.
• Successfully negotiate needed repairs
5

Home inspection mistakes to avoid
1. Not carry out deep research of the inspector to work with
While hiring a home inspector to examine your property, it is always advisable to
• Choose someone trustworthily and competent
• Always go with professionals who are licensed and certified by the American Society of Home Inspectors.
• Don't choose base on who charges the lowest
• Ask your Agent or nearby Agent to recommend a trustworthy inspector for you, don't forget to screen them too
" Too many homebuyers hire whoever is recommended to them without doing any research. The inspection is only as good as the inspector doing it, says Troy Bloxom,"
2. Not making yourself present during the inspection
You need to be on the ground during the inspection so that you can ask the inspector questions you don't understand.
One advantage of being present is you will be able to discuss your checklist and check if issues discovered are big or small to avoid worthless spending in the future
3. Not reading the inspection report
Been present during your home inspection is not all you have to take your time to read through and understand the inspection report what is the report telling you, is it telling you to go ahead with the purchase or to back out
Mitenbuler recommends the inspector should be someone that uses clear, concise language in person and in a written report, and you should scan a few reports by checking the inspector's website or asking for a sample report.
4. Pay no attention to the inspector's recommendations
At times, issues found are not taken seriously due to the cost factor. These issues may also be overlooked during negotiations. It's very essential you consider all issues your inspector outline and take a follow up on those items discovered during the inspection before investing.
5. Not preparing a checklist
Not preparing a checklist: Home inspectors usually don't check some items such as pipelines, tanks, sewerage systems during a home inspection. It's advisable to add such items to your checklist while buying a home. If your inspector is unwilling to check these elements, it's advisable to look for another that's willing to inspect the elements.
Home inspection checklist: 27 List of items to check
Here's are the list of items to pay attention to during home inspection. Having this checklist will help you to ask the right questions during a professional home inspection.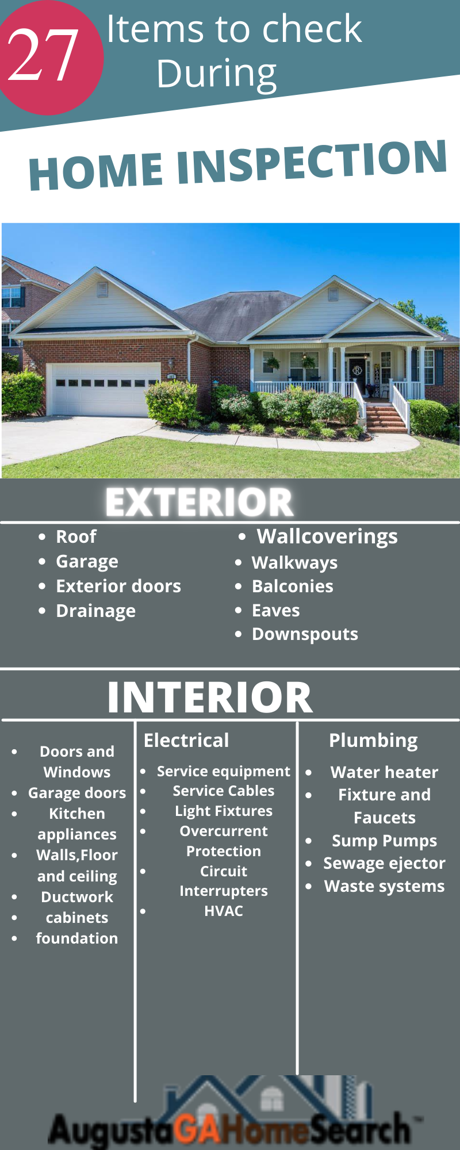 Exterior
• Roof
• Garages and/or carports
• Exterior doors
• Drainage, grading, plants, and retaining walls
• Wallcoverings, flashing, and trim
• Driveways, patios, and walkways
• Balconies, decks, steps, porches, and railings
• Eaves, fascias and soffits
• Downspouts and gutters
Interior
• Doors and windows
• Garage doors and operators
• Installed kitchen appliances
• Walls, floors, and ceilings
• Ductwork
• Cabinets and countertops
• Foundation
• Fuel-burning fireplace and stoves
Plumbing
• Water heater
• Fixtures and faucets
• Sump pumps
• Sewage ejectors
• Drain, vent, and waste systems
Electrical
• Service equipment
• Service cables, entrance conductors, and raceways
• Light fixtures, receptacles, and power switches
• Overcurrent protection devices
• circuit interrupters
• HVAC (heating, ventilation, and air conditioning), including thermostats, vents, distribution systems, access panels, insulation, and vapor retarders
5 reasons you should not skip home inspection.
After discovering your new home in a lovely neighborhood, you feel so happy right?
But there are many necessary costs, such as realtor and lawyer fees, after paying all these fees,
You may be tempted to skip the home inspection, do you think you're safe?
Oh no, that may not be the best idea. You need a professional home inspector to carefully examine the entire house, checking its systems, structure, and equipment for functionality and potential problems this will save you a lot of stress and thousands of dollars in the future.
Here are 5 good reasons why you should get it done.
1. It reveals hidden details of the property
Home inspection can reveal hidden information about the condition of a home and its systems.
This informed and prepared you of what costs, repairs, and maintenance the home may require immediately, and in the future.
If you aren't comfortable with the findings of the home inspection, it usually presents one last opportunity to back out of the offer to buy.
This is why it's very reasonable to do an inspection when purchasing a property because it may save you thousands.
2. Safety
Safety is vital to the occupant of a home and a lot of things can negatively affect your safety. If you want to live in a safe home, you should never skip a home inspection.
You should ensure that your house is tested for things such as mold, gas leaks, carbon monoxide, radon, and electrical failures, all of which can affect your safety.
3. Predict Future Costs
After you purchase your home you might think that's the end of spending on the house…but there is a lot of costs to keep the property to its taste which part of it is the maintenance cost.
Home inspection reveals the state of various component of the house such as the roof, HVAC system, electricity, plumbing, and even some appliances
An inspector can estimate their installation age, current condition, and their remaining lifespan of major units so you can plan for future expenses accordingly.
4. Protect your investment
The home inspection is a valuable document prepared by a certified inspector that can suggest tips on how to maintain your home. Knowing those tips can save you thousands of dollar in the future
5. Insurance
You need a home inspection to be done before your home can be insured, according to Haskett, Some insurance companies will not insure a home if certain conditions are found, or without the presence of certifications like Wind Mitigation and four-point inspections.